If you didn't get a chance to contribute during Give. Care., or if you want to give again, it's not too late. Help us go above and beyond by making a gift now.
You've done it...
You've done it...
This year's Give.Care Giving Day has been an amazing success thanks to all of you! Thank you for everything you've done to support Planned Parenthood South Atlantic and the patients who count on us.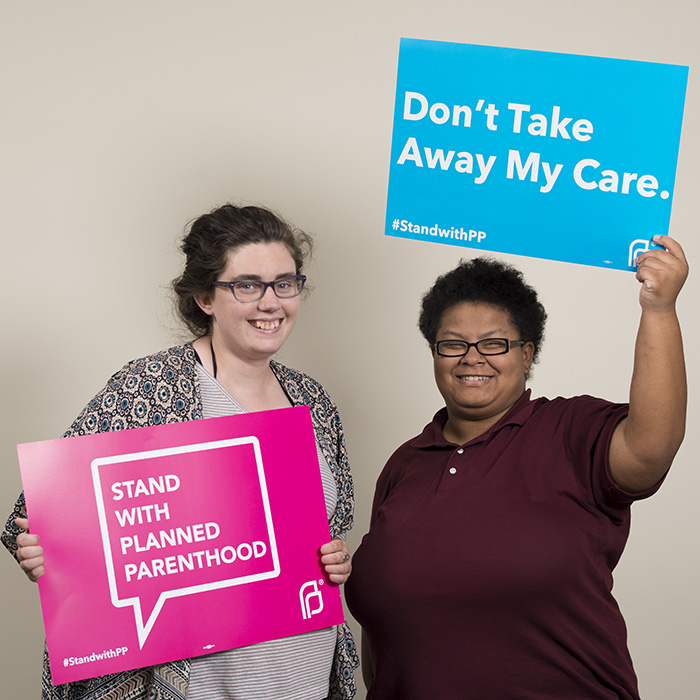 Leaderboards
Learn more about your region
---
Select a State
Find out what your support helps Planned Parenthood South Atlantic accomplish in your community.
North Carolina
Asheville
68 McDowell St, Asheville, NC 28801
Phone: (828)252-7928
Fax: (828)255-6041
Abortion
Birth Control
HIV Services
Men's Health Care
Morning-After Pill (Emergency Contraception)
Pregnancy Testing & Services
Primary Care
STD Testing, Treatment & Vaccines
Transgender Hormone Therapy
Women's Health Care
Charlotte
700 S Torrence St, Charlotte, NC 28204
Phone: (704)536-7233
Fax: (704)536-7581
Abortion
Birth Control
HIV Services
Men's Health Care
Morning-After Pill (Emergency Contraception)
Pregnancy Testing & Services
Primary Care
STD Testing, Treatment & Vaccines
Transgender Hormone Therapy
Women's Health Care
Chapel Hill
1765 Dobbins Dr, Chapel Hill, NC 27514
Phone: (919)929-5402
Fax: (919)933-5270
Abortion
Birth Control
HIV Services
Men's Health Care
Morning-After Pill (Emergency Contraception)
Pregnancy Testing & Services
Primary Care
STD Testing, Treatment & Vaccines
Transgender Hormone Therapy
Women's Health Care
Durham
105 Newsom St STE 101, Durham, NC 27704
Phone: (919)833-7526
Fax: (919)433-0360
Birth Control
HIV Services
Men's Health Care
Morning-After Pill (Emergency Contraception)
Pregnancy Testing & Services
Primary Care
STD Testing, Treatment & Vaccines
Transgender Hormone Therapy
Women's Health Care
Fayetteville
4551 Yadkin Rd, Fayetteville, NC 28303
Phone: (919)833-7526
Fax: (910)401-0845
Abortion
Birth Control
HIV Services
Men's Health Care
Mental Health
Morning-After Pill (Emergency Contraception)
Pregnancy Testing & Services
Primary Care
STD Testing, Treatment & Vaccines
Transgender Hormone Therapy
Women's Health Care
Greensboro
1704 Battleground Ave, Greensboro, NC 27408
Phone: (336)373-0678
Fax: (336)275-3127
Birth Control
HIV Services
Men's Health Care
Morning-After Pill (Emergency Contraception)
Pregnancy Testing & Services
Primary Care
STD Testing, Treatment & Vaccines
Transgender Hormone Therapy
Women's Health Care
Raleigh
100 S Boylan Ave, Raleigh, NC 27603
Phone: (919)833-7526
Fax: (919)832-9061
Birth Control
HIV Services
Men's Health Care
Morning-After Pill (Emergency Contraception)
Pregnancy Testing & Services
Primary Care
STD Testing, Treatment & Vaccines
Transgender Hormone Therapy
Women's Health Care
Wilmington
1925 Tradd Ct, Wilmington, NC 28401
Phone: (910)762-5566
Fax: (910)762-4088
Abortion
Birth Control
HIV Services
Men's Health Care
Morning-After Pill (Emergency Contraception)
Pregnancy Testing & Services
Primary Care
STD Testing, Treatment & Vaccines
Transgender Hormone Therapy
Women's Health Care
Winston-Salem
3000 Maplewood Ave ste. 112, Winston-Salem, NC 27103
Phone: (336)768-2980
Fax: (336)765-6599
Abortion
Birth Control
HIV Services
Men's Health Care
Morning-After Pill (Emergency Contraception)
Pregnancy Testing & Services
Primary Care
STD Testing, Treatment & Vaccines
Transgender Hormone Therapy
Women's Health Care
South Carolina
Charleston
1312 Ashley River Rd, Charleston, SC 29407
Phone: (843)628-4380
Fax: (843)937-6497
Abortion
Birth Control
HIV Services
Men's Health Care
Mental Health
Morning-After Pill (Emergency Contraception)
Pregnancy Testing & Services
Primary Care
STD Testing, Treatment & Vaccines
Transgender Hormone Therapy
Women's Health Care
Columbia
2712 Middleburg Drive Admin 103, Columbia, SC 29204
Phone: (803)256-4908
Fax: (803)256-4900
Abortion
Birth Control
HIV Services
Men's Health Care
Mental Health
Morning-After Pill (Emergency Contraception)
Pregnancy Testing & Services
Primary Care
STD Testing, Treatment & Vaccines
Transgender Hormone Therapy
Women's Health Care
Virginia
Charlottesville
2964 Hydraulic Rd, Charlottesville, VA 22901
Phone: (434)296-1000
Fax: (434)975-3474
Abortion
Birth Control
HIV Services
Men's Health Care
Morning-After Pill (Emergency Contraception)
Pregnancy Testing & Services
Primary Care
STD Testing, Treatment & Vaccines
Transgender Hormone Therapy
Women's Health Care
Roanoke
2207 Peters Creek Rd, Roanoke, VA 24017
Phone: (540)562-3457
Fax: (540)562-5124
Abortion
Birth Control
HIV Services
Men's Health Care
Morning-After Pill (Emergency Contraception)
Pregnancy Testing & Services
Primary Care
STD Testing, Treatment & Vaccines
Transgender Hormone Therapy
Women's Health Care
West Virginia
Vienna
522 Grand Central Ave, Vienna, WV 26105
Phone: (304)295-3331
Fax: (304)295-4924
Birth Control
HIV Services
Men's Health Care
Morning-After Pill (Emergency Contraception)
Pregnancy Testing & Services
Primary Care
STD Testing, Treatment & Vaccines
Transgender Hormone Therapy
Women's Health Care